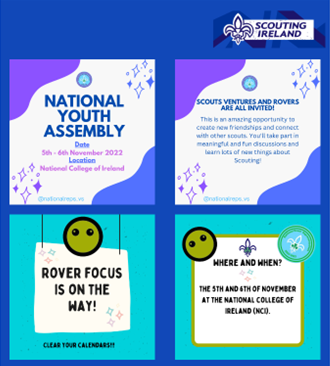 5th & 6th November 2022
National College of Ireland
The National Youth Representatives have been working hard organising the National Youth Assembly and Rover Focus, which will take place on the 5th-6th of November 2022. Two Scouts and two Ventures per Scout Group are invited to attend as delegates, with Group Leaders being able to register them on the form below. Rovers can register themselves for Rover Focus. The deadline for registration is 24th October 2022.
Both events will be held at the National College of Ireland in Dublin with an optional overnight afterward. The overnight has a cost of €15, covering food and accommodation. We ask that Scout Groups cover this cost for youth members if possible. This can be paid in cash on the day, with receipts available on request.
If you have any questions or ideas, you can contact nyr.facilitator@scouts.ie as always and we will get back to you!